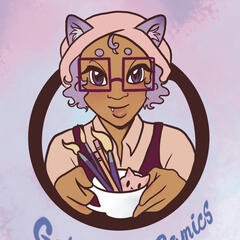 Gabi Wolf
Hello I'm Gabi (They/Them) creator of queer webcomics focusing on diversity and the fantasy genre. If your looking for a fun, cute story to escape into check out my work!
Webcomics
Current webcomic projects and where to read them.
Support me
Want to get early access to all my webcomics, along with lore posts, illustrations, uncensored pages, and exclusive NSFW mini comics? Then support me on Patreon by becoming a patron!
Want to support me but don't want to commit to my Patreon? Support me by buying me a coffee on Ko-Fi, or gettign a Ko-fi commission from me!
Etsy Shop
Check out my shop for adorable keychains, charms, and stickers!